Welcome to the Epiphany Crafts and
Clearsnap
HALLOWEEN Blog Hop!
All week long we'll be bringing you the spookiest, scariest, and most magical Halloween design ideas featuring
Epiphany Crafts and Clearsnap products. We've mixed in a few fun projects to hopefully inspire you the remainder of the days!
Today we have projects from

Designers Audrey Pettit

and

Linda Auclair!
Fright Night Boo Ghost
Designer:
Audrey Pettit
Supplies:
Epiphany Crafts Shape Studio Tool Round 14
Epiphany Crafts Round 14 Caps
Epiphany Crafts Shape Studio Tool Heart 20
Epiphany Crafts Heart 20 Caps

Clearsnap Mixed Media Inx
Clearsnap Top Boss Embossing Ink
Clearsnap Top Boss White Embossing Powder
Clearsnap Clear Design Adhesives
Clearsnap Fairy Dust Glitter
Clearsnap Glue Gloss
Clearsnap Round Stylus Tips

Adhesives: Glue Arts Glue Glider Pro with High Tac Adhesive, Glue Arts Extreme Adhesive Squares,
and Glue Arts U Cut It Foam Adhesive
Cardstock: Bazzill
Patterned Paper: American Crafts and Target $ Spot
Chipboard Alpha: American Crafts
Designer Pins and Picks: Pink Paislee
Chipboard Banner: Jenni Bowlin
Alpha Stamps: Hero Arts
Trim: K&Co. and The Kraft Outlet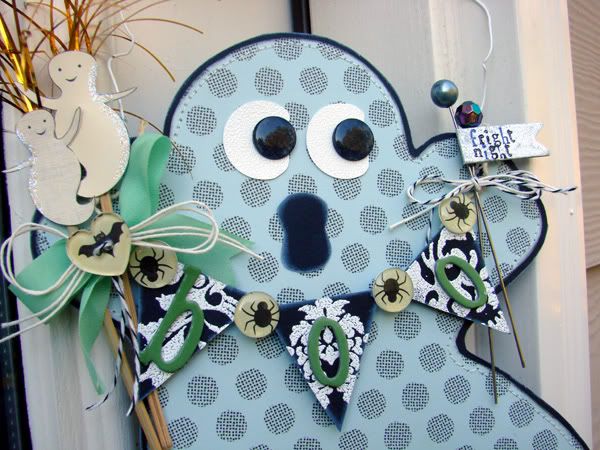 1. Die cut or free-hand cut a ghost shape from patterned paper. Edge with Black Mixed Media Inx and stitch to a piece of black cardstock. Trim around the ghost shape, leaving approximately a 1/8" border. Edge black cardstock with Jasmine Mixed Media Inx.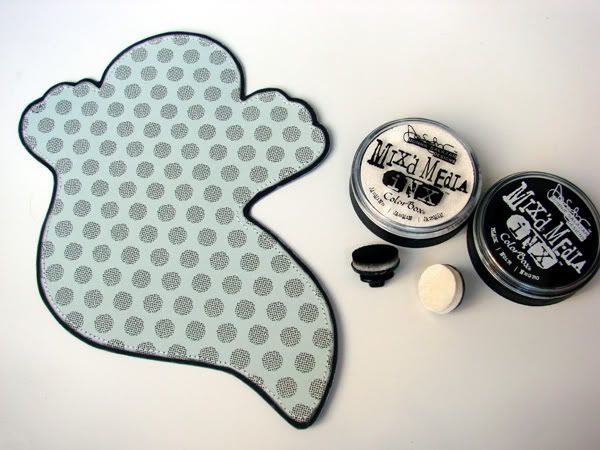 2. To create the banner, first emboss a scrap of black cardstock with Clearsnap's Design Adhesives and Top Boss White Embossing Powder. The Design Adhesives work just like rub-ons. Simply cut out your desired design, rub it on like you would a typical rub-on, peel up the clear liner, and emboss, add glitter, foil, flock, whatever you wish.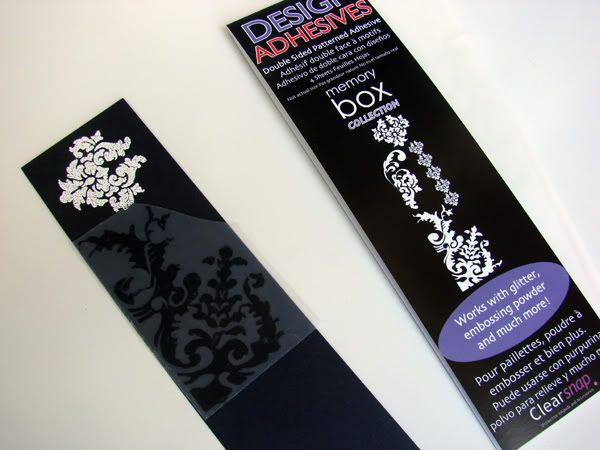 3. Cut 3 triangles from embossed cardstock for the banner. My triangles are about 1.5" wide by 1.75" long. Swag string across the ghost shape, and attach the banners using Glue Arts U Cut It Foam adhesive.

4. Embellish banner with trims, chipboard alpha stickers, designer pins and picks. Create bubble caps using the Epiphany Crafts Round 14 Studio Tool and Round 14 caps to place between each banner flag. Create a heart button using the Epiphany Crafts Heart 20 Studio Tool and a Heart 20 Cap to embellish the top of the bow.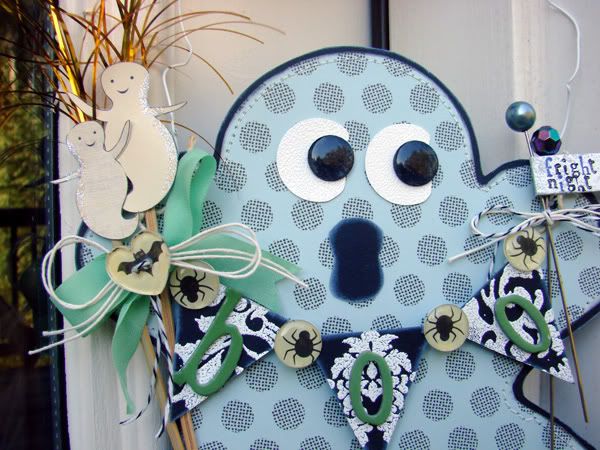 5. For the eyes, emboss a scrap of white cardstock with Top Boss Embossing Ink and Top Boss White Embossing Powder. Punch two 1" circles from embossed paper and cut into lima bean shapes. Create two black rounds using the Round 14 Studio Tool and Round 14 Caps for the pupils.

6. For the mouth, punch a 1" circle from black cardstock and cut into a figure 8 shape. Edge with Jasmine Mixed Media Inx and adhere to the ghost using Glue Arts Extreme Adhesive Squares.

7. Emboss a chipboard flag with Top Boss White Embossing Powder and stamp a sentiment with small alpha stamps. Adhere to the designer pins using Glue Arts U Cut It Foam adhesive.

8. Cut two ghosts from patterned paper. Apply Fairy Dust Glitter to the edges of the ghosts using Clearsnap's Glue Gloss. Adhere ghosts to the Designer Picks.

9. Hang ghost from a wire hanger and enjoy!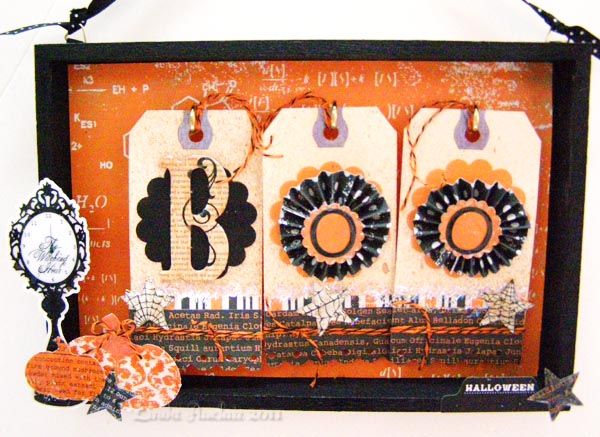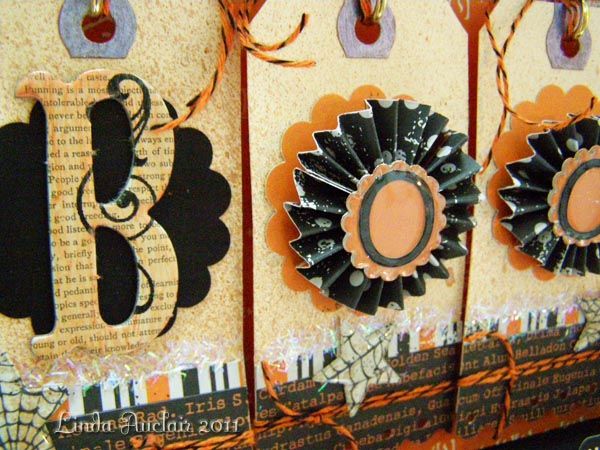 Designer: Linda Auclair
Epiphany Crafts Supplies:
EC Scalloped Circle 25 and Star 25 shapes
Clearsnap Smooch ink in "Sweet Melon"
Clearsnap Smooch Spritz in "Pralines & Cream"
Clearsnap Sparkle Fibers in "Snowdrift" for tags
Did we mention we have "candy"?
Blog Candy! (the best kind truly!!)
Both
Epiphany Crafts
and
Clearsnap
have some fun blog candy or treats up for grabs! We're giving away a great assortment of Clearsnap products along with our new
Epiphany Crafts Star Shape Tool
and matching Bubble Caps and more! Simply post a comment here on the blog and we'll enter you to win! We'll select one random winner next Monday to enjoy this prize!!
(shown above!!!)
Be sure to to hop over to the Clearsnap blog for more ideas and ways to win!!