We're brewing up some fun today at
Epiphany Crafts!
How many of you have thought of using our Bubble Caps to decorate candles?
Designer Rebecca Price
not only did that...but used the candles with her fall pumpkins for an amazing table top decoration!
New
Designer Audrey Pettit
has just the Halloween card to give someone a fright! Our Button tools allowed Audrey to make custom buttons to match her card giving it the perfect touch!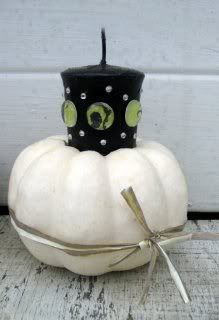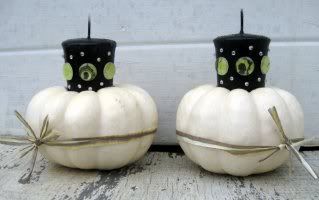 Designer: Rebecca Price
Epiphany Crafts Supplies:
Shape Studio 14 Round and 14 Round Bubblecaps
Double, Double Toil and Trouble
Designer: Audrey Pettit

Epiphany Crafts Supplies:
Epiphany Crafts Button Studio Tool Round 14 and Button Studio Round 14 Buttons
Epiphany Crafts Button Studio Tool Heart 20 and Button Studio Heart 20 Button

Patterned Paper and Cardstock Die Cut: Authentique Glowing
Digital Image: The Graphics Fairy
Scalloped Punch: Stampin'Up
Ink: Clearsnap
Doily: Wilton
String: The Kraft Outlet

Glue Arts Glue Glider Pro with High Tac Adhesive
Glue Arts U Cut It Foam Adhesive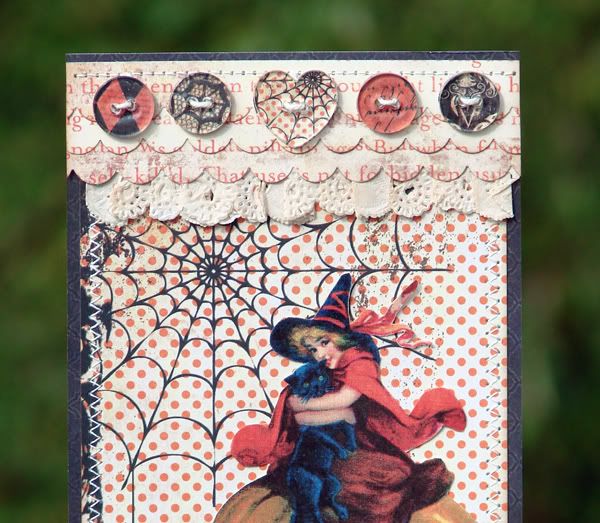 1. Layer polka dotted patterned paper onto black patterned paper and adhere to a white cardstock card base. Machine stitch edge of polka dotted paper.

2. Print witch image on white cardstock and fussy cut image out. Adhere to the bottom right of the card base.

3. Punch 4 thin strips of text-print patterned paper with a scallop-edged punch. Adhere one strip to the bottom of the card. Ink paper doily and cut off the lacy outer edge. Accordion pleat the doily and adhere to the top of the card, along with the other three scallop-edged strips.

4. Create Studio Buttons using a variety of Halloween prints. Adhere four Round 14 Buttons and one Heart 20 button to the top of the card.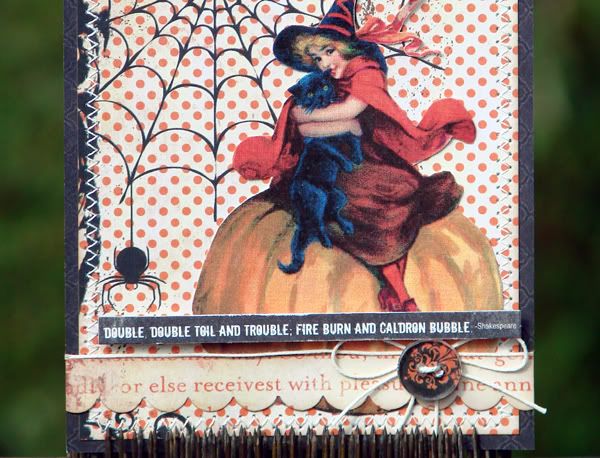 5. Tie string around the bottom scalloped strip. Adhere a simple string bow and one final Round 14 Button to the right side.

6. Adhere cardstock sentiment strip using Glue Arts U Cut It Foam adhesive for a bit of dimension.
So how would you like a chance to win our

NEW Scallop Tool and Scallop Bubble Caps?

We invite you to leave a comment for us today! Let us know what your favorite Halloween candy is? Or how you like today's projects! For posting a comment...we'll enter you to win!
We'll select on random trick or treater next Monday to enjoy these treats!!
Also we would like to give another day or two for you to enter to win a place in Designer Aly Dosdall's Big Picture Class! Here's a little big about the class...
In Doable DIY Décor, Aly will take you step-by-step through three adorable and totally doable home décor
projects using items you probably have hanging around your home.
You will learn some basic crafting techniques (Mod Podge anyone?), how to alter some household items, and you'll see just how versatile your scrapbook supplies really are.
You can display these projects in your own home, or give them as gifts to your friends and family. So join Aly on her journey beyond the page, and stretch your creativity past the edge of your layout!
To enter just post a comment here with why you'd like to take this class! We'll select on random winner and post here on Wednesday!! Be sure to check out all the classes and more at Big Picture Classes. And stop by tomorrow for more Halloween trick or treat ideas to inspire you!! See you then!